Lüders & Partner GmbH is a consultancy with headquarters in Hamburg. We have over 60 years of experience as publicly appointed and sworn auctioneers and appraisers of machinery and industrial property.
We conduct industrial appraisals for the valuation of mobile plant assets throughout Europe in our regional offices and associated teams with approx. 30 employees in six locations all over Germany.
In addition, we bring equipment and assets to sale through online and live auctions for our clients, for example, insolvency administrators, banks/financial institutions and leasing companies, investment firms and entrepreneurs.
Certification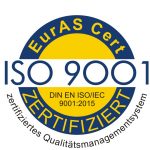 Lüders & Partner GmbH is certified according to DIN EN ISO 9001:2015. Our work processes are constantly checked and, if necessary, optimized by consistent regulation, conscientious documentation and regular training of our employees and network partners. As a result, we offer our clients high-quality, transparent services in all areas.